INTERNACIONAL POOL PARTY GARDEN BY SPOOK 3 EDITION
Get ready for the International Pool Party by Garden Spook 3rd edition!
This year, our pool party promises to be bigger and better than ever. We are excited to announce the participation of three incredible DJs who will kick off the party: GENGIO, MR.GUEY, and LEON CASBA. Come and enjoy….SUMMER IS COMING!!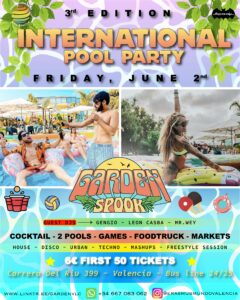 The chosen venue for this unforgettable experience is the impressive Spook Multiespacio Carrera del Riu 399, located just 10 minutes from Valencia. To ensure you don't worry about transportation, we have several bus lines that will take us there, line 24 and 25 where we will have a meeting point in the city of arts and sciences .
Once you arrive, you will be greeted by a wonderful garden where you can relax and enjoy the facilities. We will have pools to cool off and take a dip in the water, while the music fills the atmosphere.
But that's not all. Our event will be filled with activities and entertainment. You can participate in exciting games that will test your skill and fun. Additionally, we will have a wide variety of Foodtrucks and Markets to satisfy your culinary cravings. Don't miss out on the delicious options that will be available!
For the lucky first 50 attendees, the entrance fee will be only €6.

Don't miss the opportunity to secure your spot at this unforgettable party.
Mark the date on your calendar: June 2 2023. The International Pool Party 3rd edition awaits you with open arms to provide you with a day full of music, fun, and unforgettable moments.
Opening hours : from 16:00h to 1:00h
Don't miss out on your ticket and join the hottest party of the summer! We'll be waiting for you at Garden By Spook Carrera del Riu 399, Valencia!
First 50 people 6€ buy your ticket here :
https://xceed.me/en/valencia/event/internacional-pool-party-garden-by-spook-3-edition–128631/channel–multiespacio
Stop at the City of Justice