Hiking Water route Gorgos and the stairway ( Paradise on earth ) Sunday 15th Oct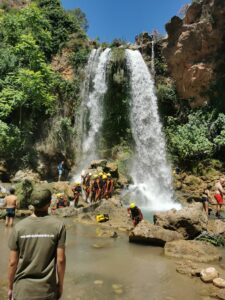 La Ruta de agua y Gorgos de la escalera is one of the most beautiful routes in the Valencian Community, with lots of vegetation, a river, lakes and spectacular waterfalls where we can bathe.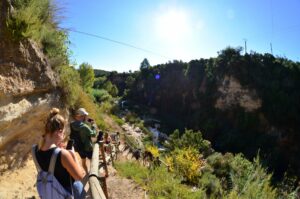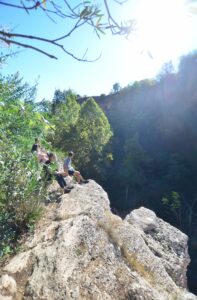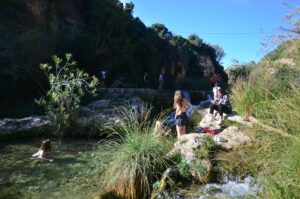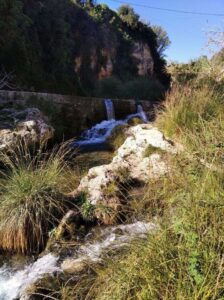 What we will do :
The route starts at the car park of the Gorgo de la Escalera, from there we go in search of the Gorgo de Gaspar, the first one we will see. All this area we move on muddy paths, where the vegetation abounds. Continuing along the path we reach the Vikingo waterfall.
Once we had visited it we continued along the paths to look for the river and cross it, but when we reached the bridge there were only two bars and it was very slippery, so we turned back to continue towards the village and pass through a beautiful wooded area.
We continued around the village to see the fountains and the gorgo del catalan. Here we have to climb the stairs next to the small waterfall. We move between orchards to look for the black fountain, a beautiful place.
From here we turn off towards the mountain to do the part of the route between olive trees and go back down to look for the river that comes from the village with good views of the village. We cross to the other side of the river in the shallow part by some rocks, and we start to climb until we reach the pine forest, where we will go along paths and forest tracks. When we reach the highest part we will enjoy the best views of the valley, even a waterfall can be seen. We start to descend to go and see the last of the waterfalls and the most famous, that of the staircase, where it is usually full of people. Near it we cross to the other side of the river to go up to the car park.
▨▨▨Circular route passing▨▨▨:
Gorgo Gaspar
Viking Waterfall
Catalan Gorgo
Waterfall of the Salto
Gorgo of the staircase
(Climbing exit, watch out)
▨▨▨Route conditions▨▨▨
Distance : 10,75 km
Difficulty level : Moderate
Time : 3h 57 minutes, more or less.
▨▨▨Departure▨▨▨
10:00 am in Valencia and return at 17:00h
Estadium Mestalla with Avenida Aragon, ( under the Murcielago ) .
▨▨▨RECOMMENDATIONS ▨▨▨
-Wear sports shoes our Hiking shoes.
-Water
-Bathing costume
– Bringing Food and drinks
The price is only 24€.
▨▨▨Includes ▨▨▨ :
Breakfast , Bus , Round trip , Guides of the route.
Probably one of the best tours in the world, book now as the price goes up on Thursday.
▨▨▨Buy you ticket here▨▨▨:
Transfer bank: ES6200730100590506055082 Alternativa de cultura y entretenimiento para el mundo.
Paypal :
Asociación Alternativa Cultural y de Entretenimiento para el mundo
(Erasmus Mundo)
NIF: G40604514
Number phone: +34 667 083 062 Instagram: @erasmusmundovalencia
Facebook: Erasmus Mundo Valencia
Web: https://www.erasmusmundo.net
erasmusmundonet@gmail.com